When it comes to choosing a country and a city to study in – it can become a really difficult task. But those, who choose to become a part of Kaunas University of Technology are never wrong. The Faculty is located in a city which is called "the heart of Lithuania". So why live and study in Kaunas? Here are the reasons that may help make up your mind.
1st reason – it's the absolute center of everything In Lithuania
The geographical location of Kaunas is located in the center of Lithuania itself, which includes all the major international and domestic roads leading to Latvia, Poland, Germany, Russia, Belarus and China. The city is easy to reach by many traveling ways from Western Europe. The inner waterway of the country flows to Kaunas as well. Moreover, all of the most important places in Kaunas are located in one place, and the city center can easily be reached by just walking. The network of bicycle trails are continuously expanding and you can find an inexpensive and easily accessible bicycle rental services which makes it possible to reach any place further from Kaunas.
What is really important – students from Kaunas University of Technology in the city of Kaunas are offered a wide range of high-level studies. Different experts appreciate these studies for the high quality of it, employers – for meeting their expectations and market needs after the studies. Kaunas University of Technology attracts more and more young talented people every year.
Statistics show that in comparison with the capital of Lithuania – Vilnius, Kaunas is a more economical city to live in: rent prices for a place to live in is about 43% cheaper, and while having a dinner at a restaurant you can spend about 24%. less money.
2nd reason – the city of youth and full of culture
Kaunas is not only an outside cinema, it's excursions to the European Heritage Label buildings, street art and graffiti. It's preparation of becoming the European Capital of Culture 2022 is just one of the reasons why the city is currently full of events.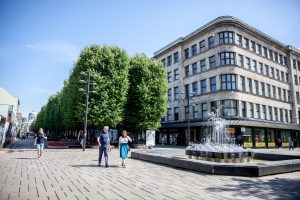 You can find a constantly growing number of different cultural events in Kaunas- starting from various exhibition galleries and non-traditional spaces, photography and design art, to the biggest dance festivals, concerts and events that make it possible for everyone to spend their time here. By the way, the famous "Freedom Picnic" is also taking place in Kaunas.
The city is not only full of culture, it is also extremely youthful: students make up about 12 % of the total population of the city, and together with different Kaunas universities researchers and teachers community, this means the public in the heart of Lithuania is highly educated, open and innovative.
3rd reason – a market offering great prospects for the future
The buildings are actively renovated, allowing to travel comfortably for various road users – pedestrians or cyclists, and, obviously, the improvement of street conditions is also in progress for those who just like traveling by cars. Last year was extremely successful for Kaunas- the city attracted a lot of big investors. Global companies like Hella, Continental, Hollister helped to create new job openings.
For those who dream of a career in science or profitable startups, Kaunas is a city of opportunities. A lot of projects received international recognition. In KTU Santaka Valley, opened in 2014, you can find one of the most modern laboratories in Europe, which also helps to create a technology-intensive business.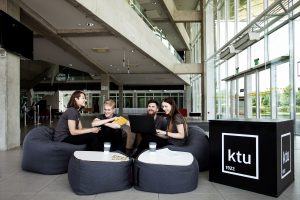 KTU "Startup Space" is the first and the most active academic startup incubator in Kaunas. Since its establishment in 2012, KTU "Startup Space" has created more than 50 startups, which became recognized in international business publications and currently attract significant foreign capital investments.