On the day of November 8th, 2018, first year students of KTU, studying Materials and nanotechnologies, Material physics and nanotechnologies and Applied physics study programmes at mathematics and nature sciences faculty (FMNS) alongside doc. dr. Linas Puodžiukynas were visiting Kaunas FEZ – one of the best and most promising industrial sites in Lithuania. Kaunas FEZ (Kaunas Free economic zone) is a private company established in 1998 by Belgians. It occupies 534ha area and offers an infrastructially comfortable place for investor companies to settle their businesses there. Ignas Juknevičius, marketing manager of this company, introduced students to Kaunas FEZ.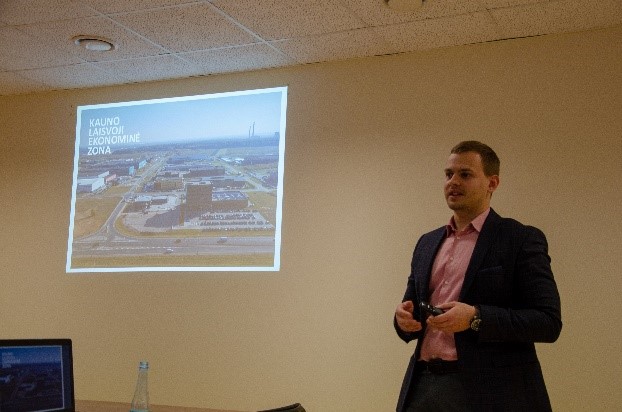 Firstly, since Kaunas FEZ is located in Kaunas suburbs, it is strategically good position for any kind of logistics companies to be, as it is located in the middle of Lithuania, near the main roads: railway – ''Rail Baltica'' and most relevant highways, such as ''Via Baltica''. In that matter, for a truck to reach the central Europe it takes 2-3 days. Secondly, as mentioned before, Kaunas FEZ offers plots of land with an already installed infrastructure for companies: electricity, gas pipelines, water supply, drainage and paved roads. All that contributes to a finished construction in less than 1 year. Finally, being a Free economic zone, it is an area, where companies, which invest more than 1mln. Euros are provided with tax relief: first 10 years they aren't required to pay any income taxes and 6 years after that they only need to pay a half of it. In addition, there are no real estate taxes and dividends, disbursed to foreign nationals are tax-free.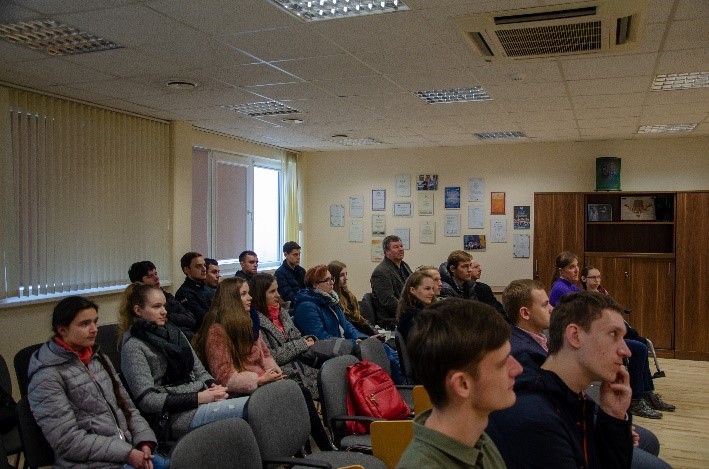 Talking about investors, there are 32 companies of various kinds, such as logistics, manufacturing, food industry and farmacy, electronics and automatization and also energetics companies. As I. Juknevičius said, the main achievements of Kaunas FEZ is the attraction of major companies such as "Hollister'', "Hella''and "Continental''. Kaunas FEZ has created an environment where companies such as these can cooperate with Lithuania for a longtime, thus increasing the economic level of a country.
The same day, students of KTU FMNS visited one of the major Lithanian electronics and automatization companies UAB"Elinta'', which specializes in inovation. During the visit, the director of the company, Vytautas Jokužis, introduced students to different business units of "Elinta'' and their inovative products.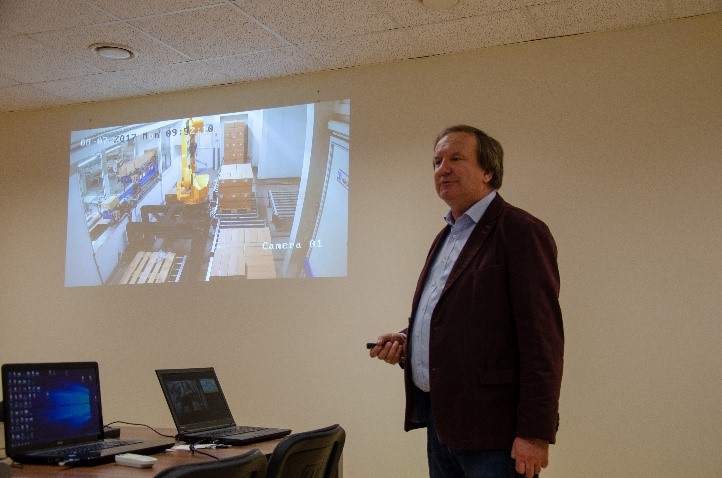 "Elintos MS'', for example, specializes in measurement and testing systems. As V. Jokužis said, the most extraordinary project of this branch are powerful and sensitive thermovisors, devices which are able to visualize an object with a help of infrared radiation. He told that such devices are not meant to be accessible to wider audience and are made mostly for military use.
While talking about labour market and job practice for students, V. Jokužis mentioned several times that his company is waiting not only 3rd or 4th year students, but also younger ones, and those, who are motivated and creative enough to grow within the company.
Dovydas Kalėda
MGMFN-8