What did we like the most? It's a difficult question! The beginning of our stay in Lithuania was very interesting. We have never seen such architectural structures, so we explored every street of this beautiful city of Kaunas!
Kaunas is a relatively small European city that appreciates modern art and new technologies, is very clean and has amazing scenery.
Lithuanians seem to be very serious people, but in fact they are very cheerful and relaxed when they get to know you better.
We liked the double deg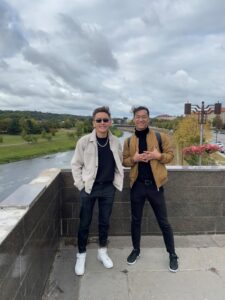 ree program, which provided an unforgettable six months of stay in Europe – full of joy, fun and travel. It was a constant exchange of culture and knowledge, and not only with the Lithuanians. For example, we made friends from different countries such as Saudi Arabia, Azerbaijan, India, Georgia and Lebanon. We also learned the basics of the Lithuanian language!
Kaunas is our second home. But we believe that after so many acquaintances, we have many "homes" in different parts of the world, just like our home has become a "home" for many people we have met.
We feel relaxed when we return home, but we also feel like different people. We began to feel more European and more mature. We also realized how close we are with my friends in my home country. We always corresponded with each other to keep in touch and share with them our dual degree experience.
The worst thing is that we will, of course, miss Kaunas and all the good things that happened here, but all good things come to an end. I would like to express my deep gratitude to KazNU and KTU for making these 5 months the best months of our life.
It was the best decision to go on a double degree program to Kaunas and study at the KTU University!