Tsewang Namgyal, the new Ambassador of the Republic of India to Lithuania and Rajinder Kumar Chaudhary, the Honorary Consul of India to Lithuania visited Kaunas University of Technology (KTU) last week. The honoured guests met with the new Rector and KTU Indian students' community.
In the meeting with the students the Ambassador and the Honorary Consul were discussing the study progress and opportunities, they were interested in the students' involvement in the University's life and local society, were talking about studies, academic achievements and extracurricular activities.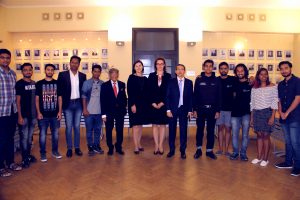 In recent years the number of Indian students choosing to study in Lithuanian universities increased significantly.
"Almost 300 undergraduate, master's and doctoral students from India were studying at KTU in the last academic year. They form the largest international student community in KTU. Although the admission for international students to KTU is still open, we can already see the increased interest in our University. The students from India usually choose technological and engineering sciences: mechanical engineering, mechatronics, electronic engineering", says Giedrė Šadeikatė, Head of the Department for Internationalisation at KTU.
After meeting the students, the respectable guests met with KTU rector Eugenijus Valatka. During the meeting the possibilities of expanding collaboration between KTU and universities of India were discussed, and the opportunities of enhancing mutually beneficial mobility among students and teachers were explored.
Tsewang Namgyal, residing in Warsaw, Poland is the 10th Indian Ambassador to Lithuania. The diplomat has been working in the embassies in Cairo, Tunisia, Brussels, Singapore and Ottawa. In 2015–2018 he was Ambassador for India in Cuba.